Fortinet FortiBridge 3042S Bypass Appliances

Ensuring availability of network resources

Sorry, this product is no longer available, Services and subscriptions can be purchased below.
Click here to jump to more pricing!

Please Note: All prices displayed are Ex-VAT. 20% VAT is added during the checkout process.
Overview:
The all-new FortiBridge 3000-series family of bypass appliances enables network security and visibility in scenarios that demand the highest level of network availability and uptime. FortiBridge allows fail-to-wire bypass functionality to be quickly and easily added to an existing FortiGate or other network device deployment.
In the case of a hardware or software failure or any other device outage, the FortiBridge will directly bridge the WAN-to-LAN segments to ensure unimpeded network connectivity and availability around the offline device. When the FortiBridge appliance detects that functionality is restored, it can automatically revert traffic back through the FortiGate or other network device. FortiBridge appliances can also be deployed in bypass mode by default to ensure maximum network throughput during normal conditions, but re-route traffic during periods of heightened threat activity to a FortiGate or other network security device. Various FortiBridge models provide flexibility to support a range of network configurations, including support for high-speed 10 GE or 40 GE ports, short-range or long-range transceivers, and bypass functionality for up to 4 network segments.
FortiBridge Benefits
The FortiBridge product family protects network availability
Protects against FortiGate failures
Fail-to-wire ensures network connectivity
Monitor and control bypass status remotely
Features & Benefits
Fail-to-Wire Bypass
Maximizes network uptime by automatically rerouting traffic in the event of a power outage or any other type of event that would cause an inline security device to degrade the availability of the network segment
Standalone 1 RU Appliance
Enables you to add bypass functionality to any existing inline security system, including FortiGate® consolidated security systems.
Remote Configuration\ and Monitoring
Enables you to monitor and control the bypass status of network segments remotely, with the ability to view mode of operation, manually switch the appliance into bypass or normal operation mode, and configure thresholds for automatic bypass fail-to-wire.
Deployment: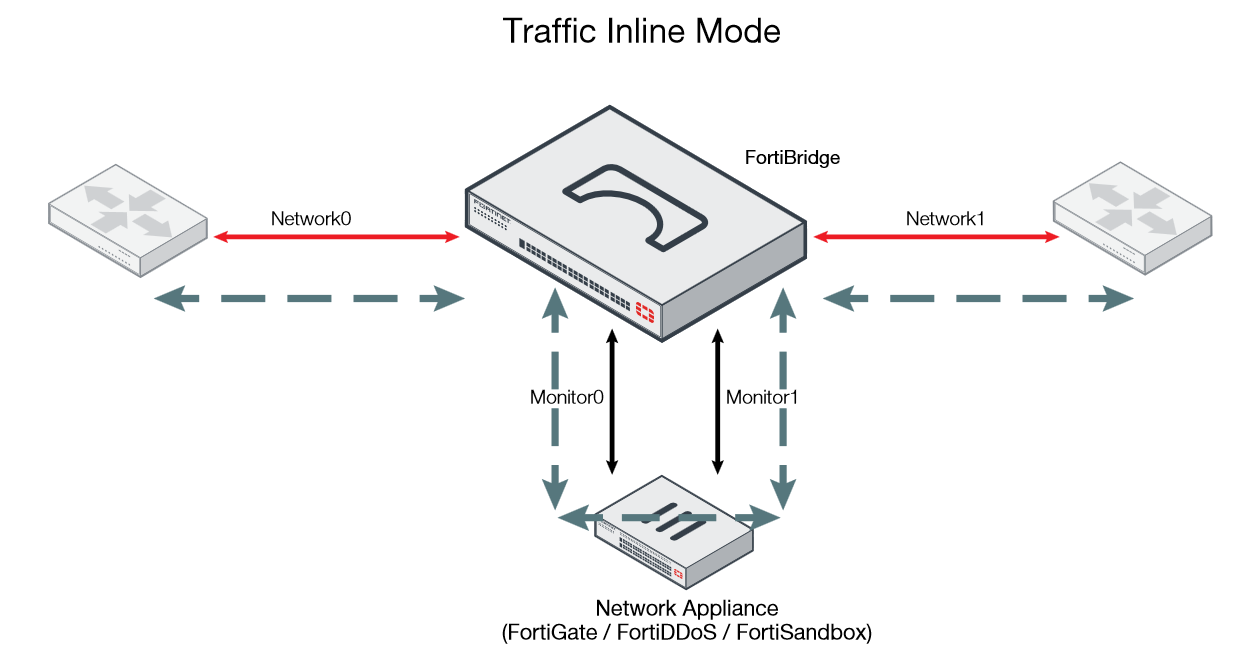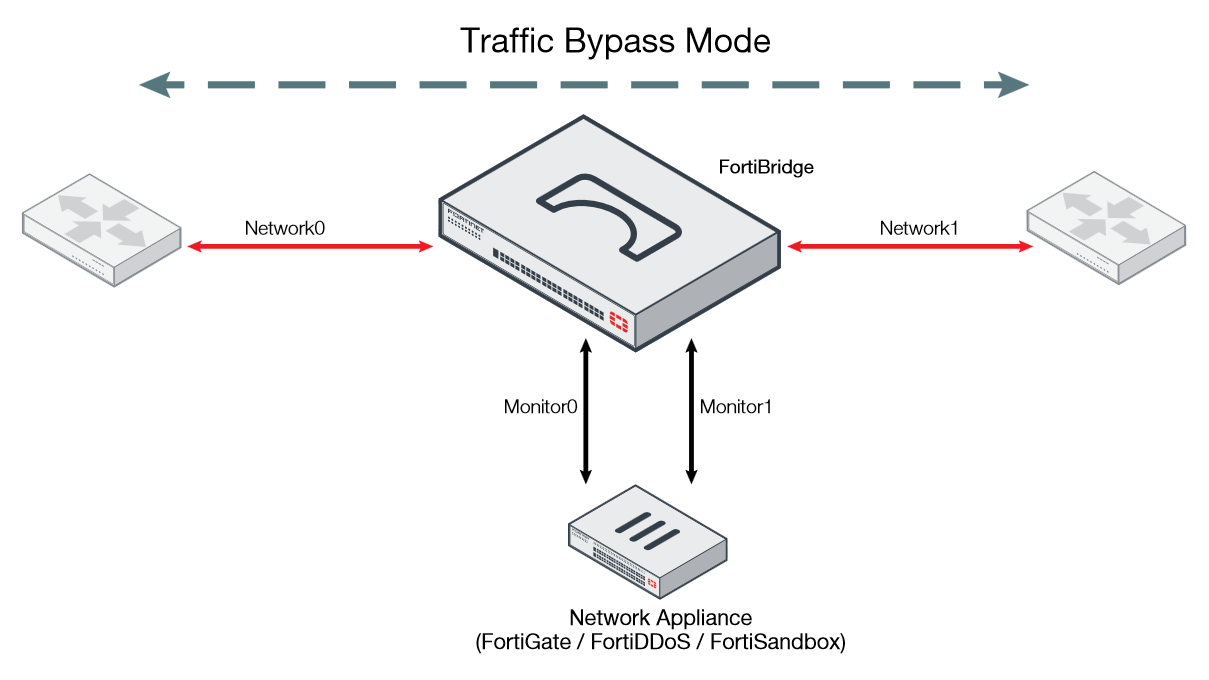 Specifications:
FBG-3042S
Hardware Specifications
Number of Modules
2x 40 Gbps
Number of Segments
2
10/100/1000 (Copper, RJ45)
0
SFP+ Interfaces (10 GE)*
0
LC Interfaces (10 GE)
0
QSFP+ Interfaces (40 GE)
4
MPO Connector (40 GE)
4
Management Interfaces (RS-232)
1
Console Interfaces (RJ45)
1
USB Interfaces
1
Modem
0
Link Protection
2x 40 Gbps segments
* 10 GE interface also capable of 1x Gbps operation
Environment
Power Consumption (Maximum)
90 W
Heat Dissipation
372 BTU/h
Power Supply
100V AC
Operating Temperature
32-104°F (0-40°C)
Storage Temperature
-4-149°F (-20-65°C)
Humidity
10-90% RH non-condensing
Mean Time Between Failures (MTBF)
28 years
Compliance
Regulatory Compliance
FCC Part 15 Class A, CE
Dimensions
Height x Width x Length (inches)
17.12 x 23 x 1.73
Height x Width x Length (mm)
435 x 586 x 44
Weight
24.03 lbs (10.9 kg)
Rack Mountable
yes
Pricing Notes:
All prices displayed are Ex-VAT. 20% VAT is added during the checkout process.
Pricing and product availability subject to change without notice.
Fortinet FortiBridge 3042S Series
24x7 FortiCare Contract
*24x7 Support, Advanced Hardware Replacement (Next Business Day), Firmware and General Upgrades, VPN, and Traffic Management
1 Year 24x7 FortiCare Contract for FortiBridge-3042S