Fortinet FortiToken 300

One Time Password Token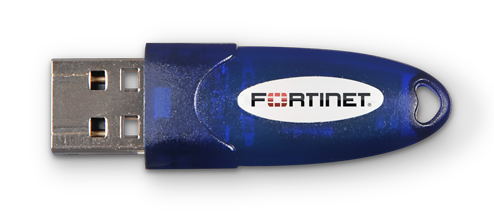 Fortinet FortiToken Series
Strong Authentication at your Fingertips
The FortiToken-300 product comprises a hardware token (FortiToken-300 PKI USB token) with a chip operating system that resides on the smart card chip of token, and a security client software application (works only with FortiToken-300). Each FortiToken-300 PKI USB token is a hardware-security-module for authentication and cryptographic applications based on Microsoft CAPI* and PKCS#11*.
* CAPI: Cryptographic Application Programming Interface.
PKCS#11: Public-Key Cryptography Standards #11 v2.20, Cryptographic Token Interface Standard.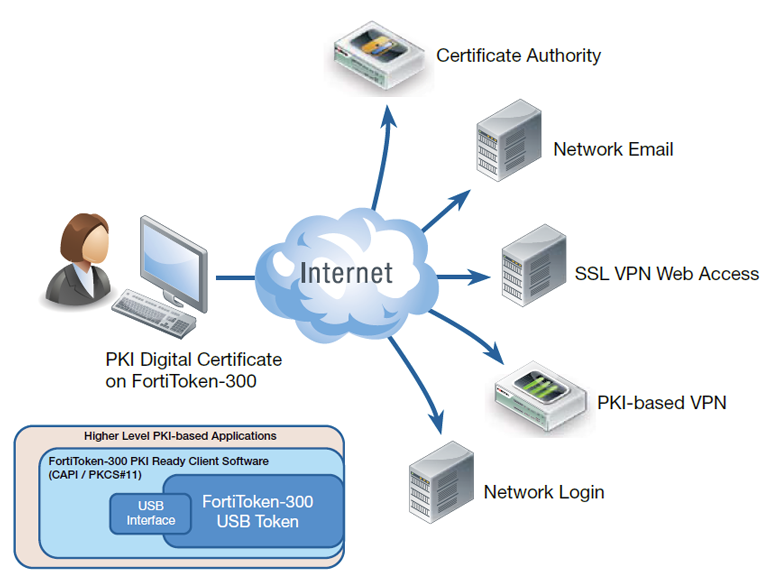 Main Features
Driverless USB device
High-performance smart card chip
FIPS-140 compliance
Windows, Linux and MacOS supported
MS-CAPI and PKCS#11 APIs supported
On-board random number generator
On-board RSA, DES, 3DES, SHA-1
Economical PKI authenticator
Perpetual license
FortiToken 300
Technical
Interface and Device Protocol
USB - CCID Driverless Device
Cryptographic Algorithms
FIPS Compliant
Asymmetric Key: RSA up to 2048 bit, ECSDA 256 / 192 bit
Symmetric Key: DES, 3DES 168 / 112 bit, AES 256 / 192 / 128 bit
HASH: SHA-1, SHA-2, HMAC-SHA1
Smart Card Platform
16-bit smart card processor, 64 K memory
Data Retention
10 years minimum
Data Rewrites Cycle
500,000 rewrites minimum
Case
A1+ BLUE (53.3 x 16.5 x 8.5 mm)
Environment
Power
5V <250mW
Operating Temperature
32-158°F (0-70°C)
Storage Temperature
-4-185°F (-20-85°C)
Humidity
0-100% non-condensing
Fortinet FortiToken Series
Fortinet FortiToken-300
Fortinet FortiToken License