Fortinet FortiFone-870i Telephone

A premium-performance cordless phone packed with features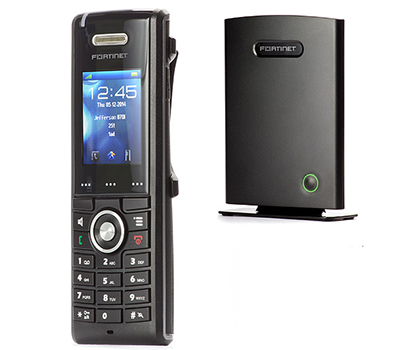 Fortinet FortiFone 870i Series
FortiFone-870i
Fortinet FortiFone-870i Base Station
FON-870i base stations supports 15 FF-870i-H handsets, 10 concurrent calls and a range of 50m indoors and 300m outdoors.
Fortinet FortiFone-870i Handset
FF-870i-H handset, 176X220 color screen, 18+ hours of talk time, 200 hours of standby time, 3 soft keys.
Pricing Notes:
All prices displayed are Ex-VAT. 20% VAT is added during the checkout process.
Pricing and product availability subject to change without notice.
The FON-870i delivers complete cordless convenience with uncompromising quality. With excellent audio even at the edges of its range, a superior full-duplex speakerphone, robust build quality and a large, bright color display, this is our best cordless phone ever. And with an impressive 18 hours of talk time on a single charge, this phone is a true business workhorse.
With support for up to 15 handsets per base and a range of 150 feet indoors, the FON-870i is also a snap to deploy. You can put a handset with its own extension number anywhere in your office without worrying about network drops.
Fully loaded
Sporting a sleek design and sturdy construction, the FON-870i is a high performance wireless extension that's packed with features and easy to use.
Crystal-clear sound quality
Extensive battery life
Large, bright 176 x 220 pixel color display
Features
Superior sound quality
full-duplex speakerphone
Up to 15 handsets per base
Up to 10 simultaneous calls per base
Long life: 18 hours talk and 200 hours standby time per charge
Range up to 1000 feet (300m) outside, 150 feet (50m) inside
Backlit color display
Message waiting light
6 polyphonic ring tones
6 levels of ringer volume

Adjustable key sounds
Call log for incoming, outgoing and missed calls
170-entry phone book
2.5 mm headset jack
Independent volume setting for speaker and handset
Belt clip
Redialing
Optional auto-answer and hang up when the handset is lifted from or returned to the charging cradle
Download the Fortine FortiFone-870i Data Sheet (PDF).