Fortinet FortiClient Endpoint Security Suite

Anytime, Anywhere Endpoint Security for Network Endpoints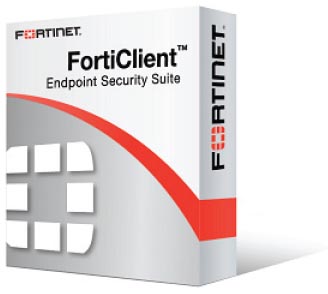 Sorry, this product is no longer available, Services and subscriptions can be purchased below.
Click here to jump to more pricing!

Please Note: All prices displayed are Ex-VAT. 20% VAT is added during the checkout process.

Overview:
In light of today's sophisticated cyber threats - targeted attacks, driveby- downloads, socially-engineered phishing, polymorphic malware and more - strong security at their ultimate destination, the endpoint, is critical. And with the rise in mobility, personal devices and BYOD, there are even more endpoints to secure. The reality is that it often takes just one threat to slip through your defences for a compromise to happen, credentials to be stolen and a data breach to occur.
Top-rated Threat Protection
FortiClient consistently earns high marks in real-world testing (NSS Labs, Virus Bulletin, AV Comparatives and others) and effectively secures your end users, devices and data.
Multiple Platform Protection for a BYOD World
Multiple platform protection for a BYOD world - FortiClient supports OS X and Windows computers and iOS and Android mobile devices.
The Endpoint Solution for Your Network
Delivers top-rated protection for your end users, devices and network.
Supports popular desktop and mobile platforms: Windows, Mac OS X, Android and iOS.
Comprehensive security suite for desktop versions, including VPN, antivirus, IPS, application firewall, web filtering and more.
Easily configure and manage client settings from a dedicated Enterprise Management System or FortiGate®.
Free basic mode provides advanced protection for unregistered endpoints.
Key Features & Benefits
Top-rated Threat Prevention
Consistent top marks in independent testing by Virus Bulletin, AV Comparatives and NSS Labs demonstrate high effectiveness.
Multi-Platform Protection
Broad platform support ensures security regardless of user device choice.
Small Footprint
A unified and optimized agent minimizes overhead on the end user device.
Flexible Management
Stand-alone, FortiGate, FortiCloud and a dedicated Enterprise Management System, provide multiple options for easy administration.
Part of Advanced Threat Protection Framework
Integration with FortiSandbox ensures seamless security and information sharing - even against the latest threats.
Features and Benefits:
Feature-rich Security Client
Small footprint, unified client software delivers antimalware, application firewall, web filter, vulnerability management, twofactor authentication, remote access and more. Real-time security updates from our in-house FortiGuard Labs experts help you stay ahead of a constantly evolving threat landscape.
Industry-leading Security at Every Endpoint
In recent independent real-world tests, this powerful stack of technologies has earned top marks including NSS Labs Recommendation for Enterprise EPP, AV Comparatives Advanced+ ratings for file detection as well as real-world protection and many more.
Advanced Threat Protection
FortiClient integrates with FortiSandbox to submit objects for analysis and receive results and dynamic signature updates as another mechanism to detect previously unknown threats.
On/Off-Net Detection
FortiClient can detect locations, can adjust its settings or automatically activate VPN when away from the office.
Standalone Protection
FortiClient doesn't stop there. The free client download can run in an unregistered mode, delivering a comprehensive solution to devices that aren't associated with a FortiGate secured network. Moving to a registered solution is a simple process, not requiring any additional client installation.
Windows
Mac OS X
Android
iOS
Basic
IPsec VPN
SSL-VPN
2
Two-Factor Authentication
Antivirus
Integration with External File Analysis System (FortiSandbox)
Web Filtering
WAN Optimization
Client Certificate Support
Registered with FortiGate1
Centralized Management
Centralized Logging to FortiAnalyzer/FortiManager
Configuration Provisioning
3
Policy Compliance Enforcement
Application Firewall
Vulnerability Scanning
Roaming Clients
Customizable GUI
Custom Install4
Windows AD SSO Agent
1 Requires FortiOS 5.0 or later 2 Web mode only 3 Supports iOS .mobileconfig in addition to FortiClient config provisioning 4 Requires License The list above may contain features which are not available on all platforms. Consult appropriate FortiClient Admin Guide to determine specific feature availability.
Deployment:
FortiClient Enterprise Management Server (EMS)
The FortiClient Enterprise Management Server helps with end-to-end endpoint management including deployment, registration, profile updates and monitor client status. You can centrally manage Antivirus, Web Security, Remote Access (IPsec and SSL VPN), Application Firewall, Vulnerability Scan, Certificate management and NAC features. You can remotely trigger AV scans and quarantine infected endpoints.
Key benefits:
Scalable solution to centrally manage 50,000+ Windows machines
Discover and deploy to all machines in AD environment
Integrate and sync with Active Directory
Create custom FortiClient Installer
Single console solution - Deploy, Manage and Monitor from a single console
Easily create and deploy FortiClient profiles to configure AntiVirus, WebFilter, VPN, Vulnerability Scan and Application Firewall
Enforce NAC with FortiGate integration
Central logging and reporting via FortiAnalyzer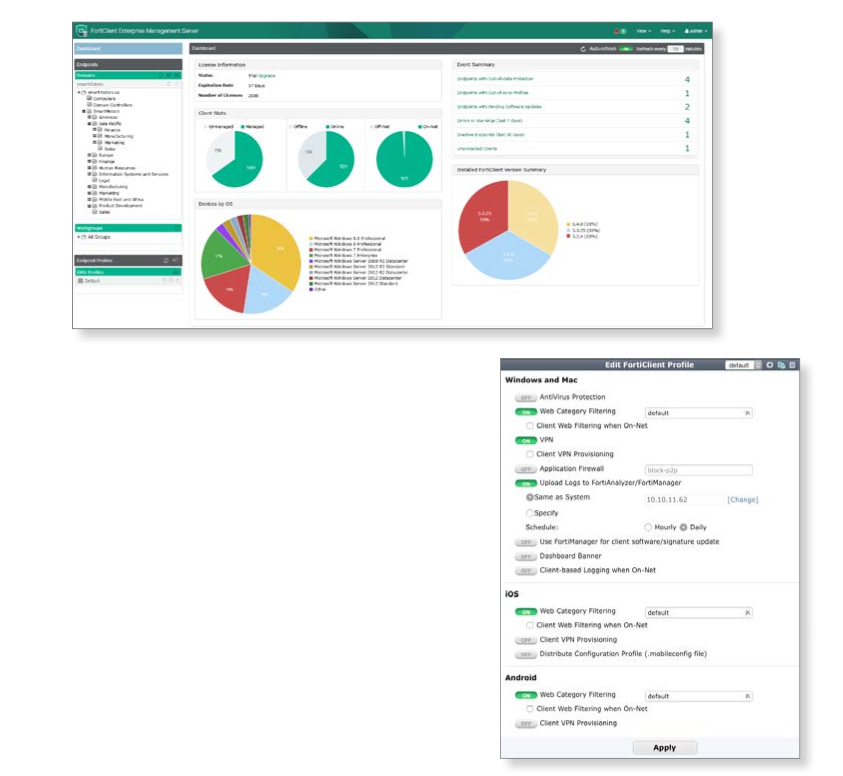 FortiGate
In FortiOS 5.0 or later, configuration and management of FortiClient endpoint agents can be handled by FortiGate. It can be configured to discover new devices on the network, enforce FortiClient registration, and deploy a preconfigured FortiClient profile to connected devices. The FortiClient profile can be deployed to devices on your network and over a VPN connection.
Specifications:
Technical Specifications
FortiClient
Operating System Supported

Microsoft Windows 10 (32-bit, 64-bit), Windows 8.1 (32-bit, 64-bit), Windows 8 (32-bit, 64-bit), Windows 7 (32-bit, 64-bit), Windows Vista (32-bit, 64-bit), Windows XP (32-bit)
Windows Server 2008 R2 and Windows Server 2012, 2012 R2
Mac OS X v10.11 El Capitan, OS X v10.10 Yosemite, OS X v10.9 Mavericks and OS X v10.8 Mountain Lion
iOS 5.1 or later (iPhone, iPad, iPod Touch)
Android OS 4.0.4 or later (phone and tablet)

Encryption
AES 128/192/256, DES/3DES
Deployment Options
Manual Interactive, Manual Silent, Active Directory GPO, Third Party Distribution Tools
Authentication Options
RADIUS, LDAP, Local Database, xAuth, TACACS+, Digital Certificate (X509 format), FortiToken
VPN Protocols
SSL (Tunnel Mode), IPsec
WAN Optimization
CIFS, FTP, HTTP, MAPI, General TCP traffiic
Connection Options
Auto Connect VPN before Windows logon, IKE Mode config for FortiClient VPN IPsec tunnel
FortiClient Enterprise Management Software
Operating System Supported

Microsoft Windows Server 2012, 2012 R2
Microsoft Windows Server 2008 R2

Endpoint Requirement
FortiClient version 5.2.4 or newer, FortiClient for Microsoft Windows and Mac OS X
System Requirements

2.0 GHz 64-bit processor, dual core (or two virtual CPUs)
2 GB RAM
5 GB free hard disk
Gigabit (10/100/1000BaseT) Ethernet adapter
Internet access
Note: All specifications are based on FortiClient 5.0.
Pricing Notes:
All prices displayed are Ex-VAT. 20% VAT is added during the checkout process.
Pricing and product availability subject to change without notice.
Fortinet FortiClient
FortiClient Chromebook Enterprise Management Software
FortiClient Enterprise Management Server Software
FortiClient Telemetry License
FortiClient SSO Software